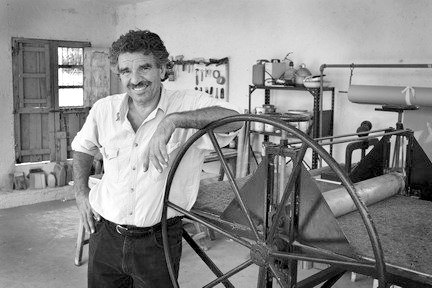 Andrew Xenios has been working as an artist since 1964. He has a Bachelor of Arts in Biology and Chemistry as well as a Master of Fine Arts from Rhode Island School of Design. His work, which includes photographs, paintings, and etchings, are in the
Permanent collections of the:
Fogg Museum, Harvard University
Biblioteque Nationale, Paris
Museum of Fine Arts, Boston
Bellas Artes, Mexico
Museo de Anthropologia,Yucatan;
University of Yucatan, Merida, Yucatan
The Addison Gallery of Art, Andover
John Stewart Collection
Whitkin Collection
Burly collection,
Amity Foundation,
Straub Collection,
Glovsky Collection among others.
A selection of some of exhibitions :
A selection of some of his exhibitions include :
Fogg Museum of Art, Harvard University
Museo Alondigas de Granaditas, Guanajuato, Mexico
Addison Gallery of Art Andover
Pinacoteca del Estado de Yucatan, Mexico (3 exhibitions)
Anthropological Museum, Mexico
Polaroid Gallery, Cambridge
Cherry Foundation, Carmel
Worcester Art Museum, Worcester
Demi Tiente Gallery, Paris
Rochester Institute, Rochester
Sopraphina Gallery, Boston
Center for Students and Artist, Paris
Winfisky Art Gallery (2 Exhibitions)
Salem State College, Salem
The Blier Gallery, Salem
Galleria Olimpo, Merida, Yucatan 2001
Institute of Contemporary Art, Boston
Daniel Ayala, Merida Yucatan
Alianza Frances, Merida Yucatan
Bellas Artes, Merida, Yucatan
Opal Gallery, Marblehead, MA
Boston City Hall, Boston;
Salem Library, Salem
Universalist Church, Marblehead, MA
Athenaeum of Photography, Marblehead, MA
Marblehead Library, Marblehead
Photography Gallery, Salem, MA
Michael Levi Gallery, Long Beach
RISD Art Museum, Providence
Salem Cultural Center, Salem
247 Gallery, Salem, MA
The Hind Gallery, London
The Wessel Gallery, Washington D.C.
Centro de Cultura, Merida, Yucatan
Bradford Jr. College, Bradford, Ma
Olimpo, Merida, Yucatan, Mexico 2002
Michael Levy Gallery, Long Beach, CA
Panopticon, Boston
The Art Institute, Boston
New England School of Photography, Boston
Teaching experiences include:
Wenfield Home for Emotionally Disturbed Children, Salem, Ma
Plummer Home for Boys, Salem, Ma
Rhode Island School of Design, Teaching Fellow
Phillips Academy, Andover, Ma
Peabody High School, Peabody, Ma
Salem State College, Salem, Ma
Center for Photography, Havana, Cuba
North Shore Community College, Beverly, Ma
Harvard University (seminar)
M.I.T. (Seminar)
Cultural Center, Merida Yucatan, (seminar in Spanish)
New England School of Photography (seminar)
Private Classes ( English and Spanish)
Expeditions and Classes in Yucatan, Mexico (annually for 25 years)
Publications:
Popular Photography, 1974
Experiencing a Changing Society, Allyn and Bacon, 1974
Psychology, Lefton, Allyn and Bacon, 1975
Soundings East, 1978
Blue Mesa Review, volume 7
Soundings East, 1988
Zoom Magazine of Photography, 1991
Soundings East, 1992
Venture, Suffolk University, 1993
Soundings East,1993
Blue Mesa Review, Volume 9
Puerto Del Sol, New Mexico State University
Venture, Suffolk University, 1995
Venture, Suffolk University, 1996

Military Service:
United States Navy Submarine Service